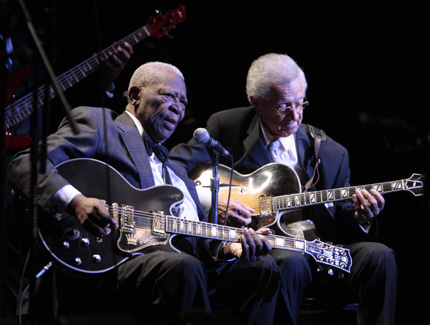 On Thursday, March 8, 2012 , KCET will air a 90-minute special on Bunche Center-affiliated faculty member Kenny Burrell, UCLA Professor and Director of Jazz Studies.  The special, "Kenny Burrell:  Jazz Master and Mentor," highlights Burrell's outstanding career as a professional musician as well as his teaching and ongoing dedication to promoting jazz as a legitimate musical art form.  The UCLA Jazz Studies Department offers musicians a diverse range of activities including careers and graduate studies in jazz performance, composition, arranging, research and teaching.  The special was produced by UCLA and will air at 9:00 p.m.
On October 31, 2011, Kenny Burrell received special recognition from President Barack Obama regarding the Royce Hall program, "Kenny Burrell:  80 Years Young."
Congratulations, Professor Burrell!
For more information about Professor Kenny Burrell or about the Bunche Center's Kenny Burrell Archive of African American Music, please click HERE.