To highlight the importance of celebrating and maintaining the civil rights tradition, in 1986 the Bunche Center inaugurated the Thurgood Marshall Lecture Series on Law and Human Rights. Named for Supreme Court Justice Thurgood Marshall, the series pays tribute to his brilliant record of civil rights advocacy by presenting an annual public lecture by a distinguished scholar, legal practitioner, or activist. For information about the 2014 lecture and honoree, john a. powell, click HERE.
Although civil rights have always been an important subject, it is especially critical in academia now. The weakening of equal opportunity programs in the University of California system has had a devastating impact on student demographics at a number of UC campuses, including UCLA. The center firmly believes that efforts such as the Thurgood Marshall Lecture Series can help in educating the public regarding both the history of the civil rights struggle in this country and the ongoing challenges to which we all must rise in order to move toward a just and equitable society.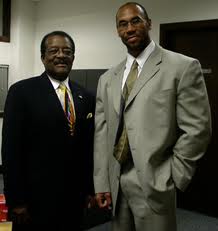 Previous Thurgood Marshall lectures have attracted not only students and faculty from UCLA and other local universities, but also civic leaders and distinguished members of the legal, corporate, and arts communities in greater Los Angeles. Many of the past lectures have received extensive coverage in the local print media, thanks to the distinction of the speakers and the relevance of the topics that they have addressed. Proceeds from the benefit dinner associated with the lecture in most years support scholarships and fellowships for Afro-American Studies students at UCLA and the Center's general fund.
Click HERE for Former Bunche Center Thurgood Marshall Honorees.
Click HERE for video of john a. powell's 2014 Thurgood Marshall Lecture.