LeRoy Neiman, an iconic American artist known as much for his trademark handlebar mustache as he was for his colorful, impressionistic portrayals of the world's top sporting events and athletes, died in New York on Wednesday, June 20th at the age of 91.  The cause of death is believed to be natural causes.
In October, 2003, Neiman donated a portrait that he painted of Ralph J. Bunche to UCLA, Bunche's Alma mater, to celebrate the renaming of the Center for African American Studies to the Ralph J. Bunche Center for African American Studies at UCLA.  The gift also acknowledged the centenary of the Nobel Prize winner's birth and hangs permanently in the Bunche Center.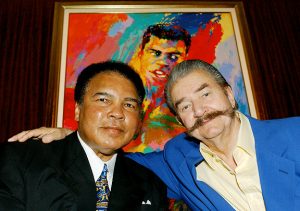 Although his paintings captured everything from African animals to presidents to jazz musicians, Neiman became best known
for his bright, bold sketches of the sports world, capturing its motion and emotion in his brushstrokes.
The most influential artist you've probably never heard of, "Neiman has the journalistic talent, as well as the artistic ability, to convey the essence of a game or contestant with great impact, from the Kentucky Derby to Wilt Chamberlain, from the America's Cup to Muhammad Ali, from the Super Bowl to Bobby Hull," sports writer Nick Seitz said.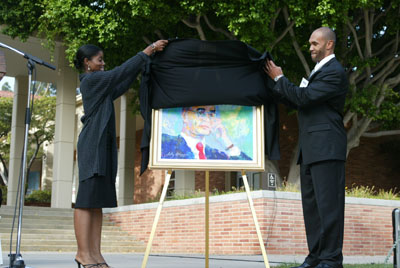 "It's been fun. I've had a lucky life," Mr. Neiman said in a June 2008 interview with The Associated Press. "I've zeroed in on what you would call action and excellence. … Everybody who does anything to try to succeed has to give the best of themselves, and art has made me pull the best out of myself."
Over the years, Mr. Neiman has endowed a number of institutions, donating $6 million in 1995 for the creation of the LeRoy Neiman Center for Print Studies at Columbia University and $3 million to his alma mater, the Art Institute of Chicago, where he taught for a decade.