Mervyn Dymally (1926-2012)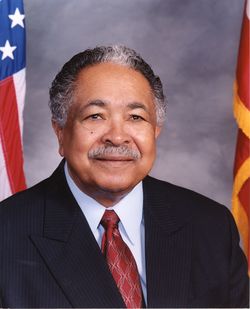 When I think of
Mervyn M. Dymally
, two words come to mind:  conviction and grace.  When Mervyn Dymally took on a cause, he did so with a passion and a style that was all his own.  Few public servants can match the accomplishments or the longevity of this statesman.  From the early days of his political career in the California Assembly and Senate — for me, his tireless efforts to bring King Drew Medical Center to the underserved communities of South Los Angeles stand out as a signature moment here — to his trailblazing tenure as Lieutenant Governor, his time in Congress, and his more recent efforts to increase access to education and healthcare, Mervyn Dymally has always been there for the People, to serve the People.  I had the honor of working with him in recent years around the thorny issue of African American student access to UCLA, and I can personally attest to the impact of having someone of his stature at the table when confronting these types of challenges.  While we will all certainly miss his giant presence, his legacy will live on as a model for how we can get things done….the right way.
— Darnell M. Hunt, Director
Click
HERE
to read more about Dymally's contributions.