The Bunche Center
Celebrates the Life of our Colleague and Friend,
Antronette "Toni" Yancey
November 1, 1957 – April 23, 2013
"Doctor – Educator – Author – Poet"
It is with deep sadness that we inform you of the passing of Dr. Toni Yancey, who died April 23, 2013.  Dr. Yancey was a professor in the Department of Health Services, UCLA School of Public Health, was Co-Director of the UCLA Kaiser Permanente Center for Health Equity, and was a Bunche Center affiliated faculty member.
Born in Kansas City, Missouri, Dr. Yancey completed her undergraduate studies in biochemistry and molecular biology at Northwestern University, earned her medical degree at Duke, and completed her preventive medicine residency/MPH at UCLA.  Dr. Yancey's primary research interests were in chronic disease prevention and adolescent health promotion.
In addition to teaching, Dr. Yancey wrote extensively about obesity and other adolescent health issues.  Dr. Yancey authored more than 100 scientific publications, including briefs, book chapters, health promotion videos, and more than 75 peer-reviewed journal articles and editorials.  As principal investigator, she generated more than $25 million in extramural funds, including four National Institutes of Health independent investigator grants.  In October of 2012, Dr. Yancey led a team of researchers at the UCLA Fielding School of Public Health and UCLA's Jonsson Comprehensive Cancer Center who were awarded a five-year grant from the Centers for Disease Control and Prevention (CDC) to address health disparities among racial and ethnic groups across the country as part of the agency's Racial and Ethnic Approaches to Community Health (REACH) initiative.
Dr. Yancey served on the Institute of Medicine (IOM) Standing Committee on Childhood Obesity Prevention, the National Physical Activity Plan Coordinating Committee, the California Department of Public Health Advisory Committee, and the Boards of Directors of the Public Health Institute, Action for Healthy Kids, and the Partnership for a Healthier America, the non-profit supporting First Lady Michelle Obama's Let's Move campaign to end the childhood obesity epidemic.  Last year, Dr. Yancey was bestowed the Pioneering Innovation Award by CDC for her obesity prevention and control initiatives, and her work in advancing policies and environmental strategies to prevent and control obesity.
In addition to her academic work, Dr. Yancey was a basketball enthusiast, a published poet and spoken word performer.  In 2001, she released a spoken word music CD.  Her book of poetry and art, a collaboration with artist Todd Berrien, An Old Soul with a Young Spirit: Poetry in the Era of Desegregation Recovery, was published in 1997 and sold out of its first printing.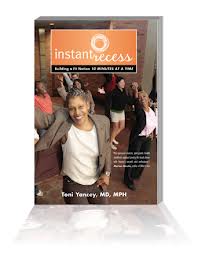 Through her teaching, research and other works including her second book, Instant Recess:  Building a Fit Nation — 10 Minutes at a Time (University of California Press, 2010), Dr. Yancey made significant contributions to the world of health, especially in the area of obesity prevention.  As Associate Vice Provost for Student Diversity, Dr. Charles J. Alexander commented, "Dr. Yancey "moved" the masses.  She may have passed on but her legacy lives on to change generations to come."
The Bunche Center sends their heartfelt condolences to her family, friends, and the millions touched by her efforts.
A memorial service for our dear colleague, the late Antronette (Toni) Yancey will be held at noon on Friday, May 3 at Forest Lawn Hollywood Hills.  Her family requests that in lieu of flowers, please send a donation to:
The Yancey Edgley Scholarship Fund
Santa Monica College Black Collegians Attention: Sherri Bradford 1900 Pico Blvd. Santa Monica, CA 90405 Note: Yancey Edgley Scholarship Fund Direct Dial 310-434-3635, Main 310-434-4232  
Read the Los Angeles Times obituary HERE.