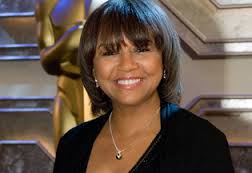 Hollywood veteran Cheryl Boone Isaacs has been elected president of the Academy of Motion Picture Arts and Sciences, the organization that hands out the Oscars each year.  She is the first African American to hold the post.
Boone Isaacs currently heads CBI Enterprises and has consulted on films such as "The Call," "The Artist," "The King's Speech," "Precious: Based on the Novel 'Push' by Sapphire," "Spider-Man 2" and "Tupac: Resurrection."  Prior to opening her own company, Boone Isaacs served as president of theatrical marketing for New Line Cinema.  At New Line, she oversaw box office hits including "Austin Powers: The Spy Who Shagged Me" and "Rush Hour."  Prior to joining New Line in 1997, Boone Isaacs was exec worldwide publicity VP for Paramount Pictures, where she developed publicity campaigns for Oscar winners "Forrest Gump" and "Braveheart."
To read the Los Angeles Times article about her appointment, click HERE  or the Variety article, click HERE.  For more background information on Isaacs and the Academy of Motion Pictures Arts and Sciences, click HERE for a Los Angeles Times feature article.
For background information on the Bunche Center Race and Hollywood Project, click HERE.