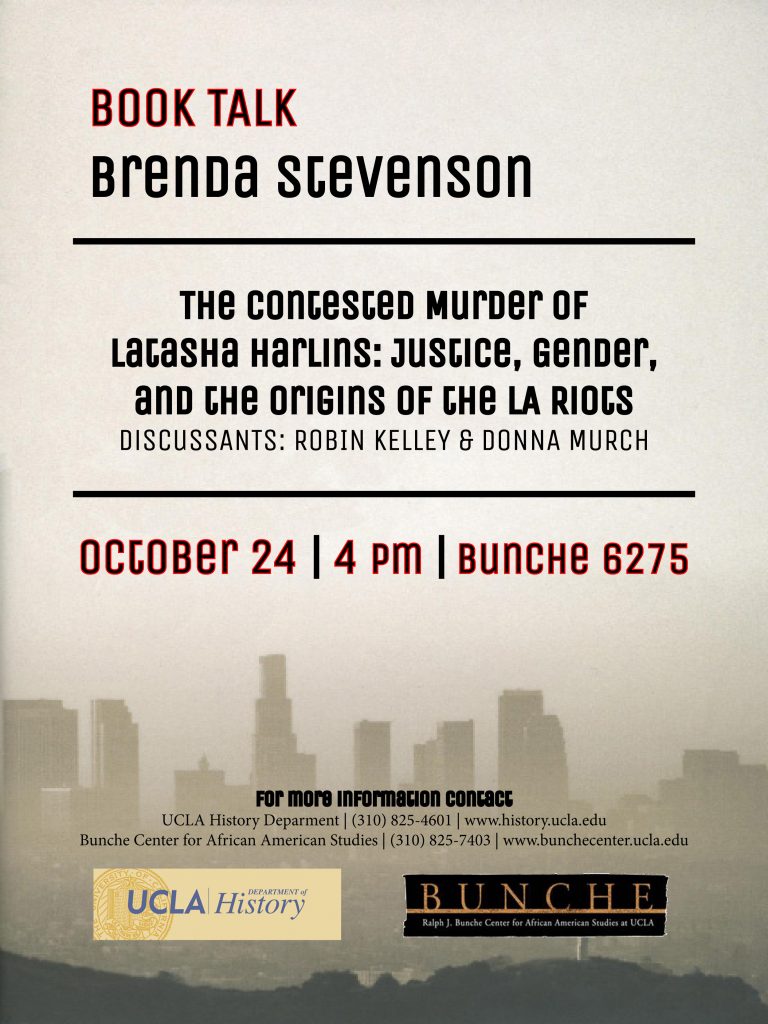 EVENT DETAILS
Thursday, October 24th
4pm
Bunche 6275
Free and open to the public
Please RSVP to Lisa Kim at lisa@history.ucla.edu. 
OVERVIEW
Helicopters thwopped low over the city, filming blocks of burning cars and buildings, mobs breaking into storefronts, and the vicious beating of truck driver Reginald Denny. For a week in April 1992, Los Angeles transformed into a cityscape of rage, purportedly due to the exoneration of four policemen who had beaten Rodney King. It should be no surprise that such intense anger erupted from something deeper than a single incident.
In The Contested Murder of Latasha Harlins, Brenda Stevenson tells the dramatic story of an earlier trial, a turning point on the road to the 1992 riot. On March 16, 1991, fifteen-year-old Latasha Harlins, an African American who lived locally, entered the Empire Liquor Market at 9172 South Figueroa Street in South Central Los Angeles. Behind the counter was a Korean woman named Soon Ja Du. Latasha walked to the refrigerator cases in the back, took a bottle of orange juice, put it in her backpack, and approached the cash register with two dollar bills in her hand-the price of the juice. Moments later she was face-down on the floor with a bullet hole in the back of her head, shot dead by Du. Joyce Karlin, a Jewish Superior Court judge appointed by Republican Governor Pete Wilson, presided over the resulting manslaughter trial. A jury convicted Du, but Karlin sentenced her only to probation, community service, and a $500 fine. The author meticulously reconstructs these events and their aftermath, showing how they set the stage for the explosion in 1992. 
Click Here to learn more about Brenda Stevenson's book.
Also, for the Los Angeles Times interview of Professor Stevenson by Patt Morrison, click HERE.
The event is free and open to the public.  All-day parking ($12) and short-term parking (payable at pay stations) are available in Lots 2, 3 or 4 (enter the campus at Hilgard and Westholme avenues). UCLA is smoke-free and tobacco-free. The use of cigarettes, cigars, chewing tobacco and all other tobacco products, as well as electronic cigarettes, will be prohibited on UCLA's campus and at sites owned or fully leased by the university. For more information, please visit: https://ccle.ucla.edu/course/view/UCLA_tobacco_free_task_force.