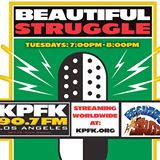 Bunche Center's Darnell Hunt on KPFK's Beautiful Struggle  
Dr. Hunt will join others to discuss the on-going battle over Affirmative Action, the Alliance for Equal Opportunity in Education, and the brief filed by the Bunche Center for African American Studies at UCLA in the Supreme Court case, Schuette v. Coalition.  Tune in tonight, Tuesday, October 1, from 7-8 pm PST. 
Beautiful Struggle is an African American public affairs show produced at Pacifica Radio's Los Angeles affiliate, KPFK.  KPFK can be heard on 90.7 FM throughout the LA area down to San Diego, and on 98.7 FM in the Santa Barbara area. They also stream live and archive for 90 days at http://www.kpfk.org/.
For more information on the Bunche Center's past research on diversity issues, click HERE.