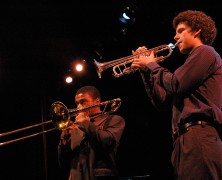 On November 25th and 26th, The UCLA Herb Alpert School of Music, and the Department of Ethnomusicology present two evenings of jazz.
On Monday, November 25, 2013 at 7:00pm in UCLA's Schoenberg Hall, UCLA jazz combos featuring student ensembles will perform, with special guests, the Thelonious Monk Institute of Jazz Performance Ensemble.
On Tuesday, November 26th, 2013 at 7:00pm in Schoenberg Hall, UCLA's award winning jazz ensembles will perform. They include the UCLA LatinJazz Big Band, directed by Dr. Bobby Rodriguez, the UCLA Jazz Orchestra, directed by Charley Harrison, and the Ellingtonia Orchestra, directed by Kenny Burrell, Professor and Director of Jazz Studies at UCLA and a Bunche Center affiliated faculty member.  Dr. Burrell's archive is housed in the Bunche Library and Media Center.
These concerts are supported by donations from the UCLA School of the Arts and Architecture and the Friends of Jazz at UCLA. The events are free and open to the public. Parking is available in Lot 2 — $12 (Hilgard and Westholme). For additional information contact – (310) 206-3033 or visit www.ethnomusic.ucla.edu.