Professor john a. powell is an internationally recognized expert in the areas of civil rights and civil lib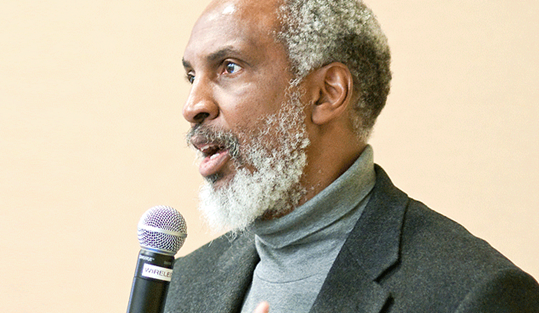 erties.  He has written extensively on a number of issues including structural racism, racial justice and regionalism, concentrated poverty and urban sprawl, voting rights, affirmative action, and the needs of citizens in a democratic society.  Professor powell is the author of several books, including his most recent, Racing to Justice: Transforming our Concepts of Self and Other to Build an Inclusive Society (Indiana University Press, 2012).  We had an opportunity for a brief Q&A with Professor powell, who will give the Bunche Center's 25th Thurgood Marshall Lecture.
Ed.  Both your book and your talk deal with inclusion and equity.  Why is it important to continue and expand that conversation?
jp.  There are so many reasons why we need to expand the conversation.  Today, we are in the process of redefining our country and the question is:  what kind of country are we going to be?  We need to expand the conversation to address our country's growing inequality.
Ed.  Critics like to say that we have Affirmative Action, we're discussing diversity, and we even a black President.  Aren't we already dealing with the issue?
Jp.  We need to deal with the problem of diversity in a real way.  There needs to be an intrinsic understanding that if we do not deal with the problem, if we simply make it a minority issue, not only the underrepresented will suffer, the whole country will be in trouble.
Ed.  How?
jp.  In my book, Racing to Justice, I look at how this country is going through a profound shift and the profound anxiety caused by those changes.
Ed.  What do you mean?
jp.  As the demographics change, we're asking ourselves: who are we as a country, as a people?  I try to make sense of the anxiety and discomfort that comes [from that change] and offer an understanding of our history and our future [within that context].  I look at ways to enlarge the conversation about diversity, discuss the consequences of exclusion and inequity, and bring that conversation up-to-date.
Ed.  How do we do that?
jp.  There needs to be a new discussion that is not just about rethinking issues, but also about reconsidering identity.
Ed.  In what way?
jp.  In the 60s, there was little question about identity, except that all of us should be individuals.  But that doesn't work anymore.  Our identities aren't just individually constructed.  Identities are very social and exist within a larger structure.
Ed.  How should we look at identity today and what are the consequences of this larger view?
jp.  We need to go back to the way we think of being – as an individual, as a human, and as Americans.  [As we rethink identity] we have to ask:  how will this new world be born?  Who will participate in its creating?  Race influences all of these questions and race effects our core intuitional design – our economy, our politics, everything.
Ed.  Building on the work done by Thurgood Marshall and other Civil Rights leaders, what do you think our charge – as a society and as individuals – is today?
jp. I believe it is our charge to participate in building a world that is diverse racially and provides foundational access for all.  That access must be local, national, and global, but it must also be political, economic, and spiritual.
The Right likes to use the fear of the other.   They believe that it is better to stir up anxiety of the other and they do it strategically.  But that fear is no longer limited to the other in our midst.  It is a global fear.  However, spatial expressions still matter and we must recognize that we are profoundly interconnected to our physical and our social climates.
We have to be aware of the attack on federal government vs. states' rights; understand how expansion of corporate power and the truncating of civil rights are tied together; recognize that the Supreme Court has been stalwart in holding back the future; and expose the rejection of blacks as part of the political system then and now.
Professor powell will present the 25th Thurgood Marshall Lecture on Tuesday, April 1, 2014, at UCLA's Covel Commons in the Grand Horizon Room.  A reception will begin at 5:30, with the lecture immediately following at 7:00pm.  Seating is still available.  Please RSVP: (310) 825-4023 or Email: djefferson@bunche.ucla.edu.  This event is free and open to the public.  Parking is $12 at Sunset Village-Enter at Sunset Boulevard & Bellagio Drive.  UCLA is smoke-free and tobacco-free. 
*Professor powell's name is in lowercase at his request.