Bunche Center Circle of Thought Series Presents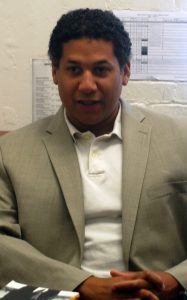 Transcultural Performance Disciplines:
Embodying AfroAsia Through
Martial Arts in Theater, Film & Everyday Practice
 Tuesday, May 6, 2014
Library and Media Center – Haines Hall 135
12 Noon – 1:00 PM
Zachary Price
Bunche Center Assistant Researcher
Race & Hollywood/Hollywood Advancement Project
 Dr. Price's work looks at performance as a strategy for political survival and transformation. He has a Ph.D. from the University of California, Santa Barbara in Theater and Dance, an M.F.A. in Playwriting from the New School University, a B.S. in performance studies from Northwestern University. Please feel free to bring your lunch to this noontime event.
The event is free and open to the public. Daily parking permits at UCLA are $12. Short term parking is available. For more information visit: https://main.transportation.ucla.edu/campus-parking/visitors. UCLA is smoke-free and tobacco-free. For more information about the smoking policy please visit: https://ccle.ucla.edu/course/view/UCLA_tobacco_free_task_force.