The Doors' John Densmore Draws Large Crowd and Supports Students
May 19, 2014 – Attendees came from as far away as Chicago for the Bunche Center Authors' Series book talk with famed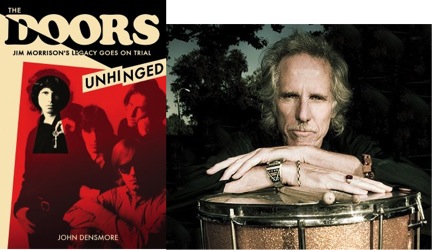 drummer John Densmore. Another attendee broke down in joyful tears over the opportunity to talk one-on-one with his idol. The May 15th event, which was moved from the Bunche Center to the lounge at the Faculty Center to accommodate the crowd, was filled with both words and music as Densmore read passages from his book while drumming. He delighted audience members with his impromptu concert.
Densmore, an original and founding member of the legendary rock group, The Doors, is author of the new book, The Doors: Unhinged. In the book, he writes about the conflict between him and his band mates as they fought over the right to use The Doors' name. At the same time, the book examines how this conflict mirrors and reflects a much larger societal issue – that no amount of money seems to be enough for even the wealthiest people. His previous book, the autobiography, Riders on the Storm, was on the New York Times bestseller list.
Densmore is a longtime supporter of the Bunche Center, having established an endowment in academic year 1991-92 to support UCLA undergraduate students who major or minor in Afro-American Studies. After the book talk, Densmore dined with the students supported by his scholarship, Deanna Jordan and Ashley Tapley, taking time to hear more about their interests and goals.
To learn more about The Doors: Unhinged, Click Here.
Click the link to find out about more about how to Support the Center.
Densmore flanked by Deanna Jordan (left), and Ashley Tapley (right).