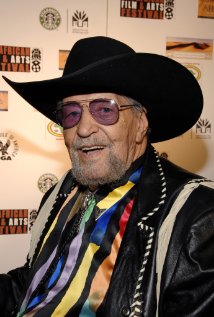 Memorial Service to Celebrate the Life of Herb Jeffries
Hollywood's First and Only African American Singing Cowboy
Saturday, July 12, 2014 from 11:00am – 4:00pm
Cinema's original and only African-American cowboy singing star, Herb Jeffries, passed away on May 25, 2014, at the age of 100. "The Bronze Buckaroo" not only sang and acted in the first black cowboy films, he produced the films as well. Prior to his film career, Jeffries was an internationally known jazz singer who performed with Louis Armstrong, the Earl "Fatha" Hines Orchestra, and the great Duke Ellington Orchestra. He sang Ellington's classic hit, "Flamingo" (which sold over 14 million copies in 1940).
Herb Jeffries' movies broke down many barriers, and helped to increase the opportunities for black performers. In 2008, he received the Lifetime Achievement Award for his outstanding pioneering work from the Pan African Film Festival, where he was warmly and enthusiastically received by a new generation of fans.
Jeffries' memorial service will be held on Saturday, July 12, 2014 from 11:00am – 4:00pm. The Memorial Service will be from 11:00am – 12:30, with a gathering and visitation from 12:30pm until 4:00pm. The memorial service will be held at the Self Realization Fellowship Lake Shrine Temple, 17080 W Sunset Blvd. (about 200 yards east of the Pacific Coast Highway on Sunset Boulevard).
Paramahansa Yogananda, the founder of the Self Realization Fellowship Center, was Herb's guru and helped Herb heal following an airplane crash in the early 1950s. From then on, Herb became a full time vegetarian and yogi.
Following the service, Jeffries will be cremated and a portion of his ashes placed at the Self Realization Fellowship, at the Hollywood Hills Cemetery (part of Forest Lawn), in Hawaii and in India. The Pan African Film Festival will assist in the internment of a portion of Herb's ashes in Africa.
To read more about Herb Jeffries, Click Here.