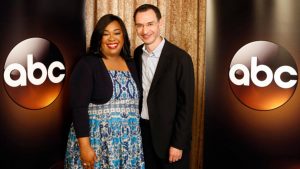 July 16, 2014 – With writer-producer Shonda Rhimes' "Scandal" hitting big, ABC has decided to embrace diversity, rolling out at least four shows, including Cristela, Fresh Off the Boat, Black-ish and American Crime, all featuring racial humor and/or politics. At ABC's presentation at the Television Critics Association summer press tour in Beverly Hills, Paul Lee, ABC's entertainment president, discussed the net's bold steps to diversify prime-time television.
For background information about the Bunche Center's Race and Hollywood Project, Click Here. For previous posts about the Center's Hollywood Advancement Project, Click Here.
To learn more about supporting this important research project and its annual diversity report, please contact Chia Yen, Executive Director of Development, UCLA Institute of American Cultures at cyen@support.ucla.edu or 310.206.6872.  To learn more about how to support the Bunche Center, you may also visit https://giving.ucla.edu/bunche.