COME VISIT THE RALPH J. BUNCHE CENTER FOR AFRICAN AMERICAN STUDIES
LIBRARY AND MEDIA CENTER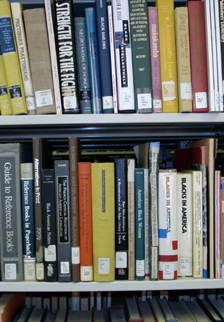 The Ralph J. Bunche Center for African American Studies Library and Media Center (LMC ) is one of the four ethnic studies libraries on campus. The LMC has print, multimedia, and archival materials relevant to African Americans and the diaspora, their institutions and achievements worldwide, with a particular emphasis on UCLA, Los Angeles, and the Southwestern United States.
At this event, LMC librarian, Dalena Hunter, will share the history of the library and offer a brief tour of the library and archives. You are invited you to play Black Jeopardy© for prizes.
Librarian: Dalena Hunter
When: Wednesday, August 20th from 1:30pm – 3:00 pm
Where: Bunche Center Library, Haines Hall 135
During the summer, the library is open by appointment only. Regular hours will resume at the start of the Fall quarter. Research and reference questions by phone and email are always welcome. The Librarian can be reached at 310-825-6060 or by email at dhunter@bunche.ucla.edu. The LMC is located in 135 Haines Hall. For more about the library, Click Here.
Unless noted, these programs are free and open to the public. All-day parking ($12) and short-term parking (payable at pay stations) are available in Lots 2, 3 or 4 (enter the campus at Hilgard and Westholme avenues). UCLA is smoke-free and tobacco-free. The use of cigarettes, cigars, chewing tobacco and all other tobacco products, as well as electronic cigarettes, will be prohibited on UCLA's campus and at sites owned or fully leased by the university. For more information, please visit: https://ccle.ucla.edu/course/view/UCLA_tobacco_free_task_force.