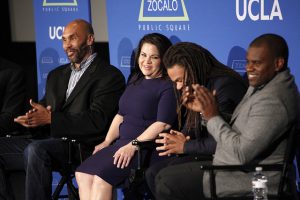 February 26, 2015 – One of the important takeaways from the panel discussion, "Why Can't Hollywood Look Like America?" is that despite what is claimed, findings show that the most successful movies and television shows reflect America's demographics. Hollywood insiders discussed this and other issues as they explored diversity (or lack thereof) in the entertainment industry at this "Thinking L.A." event.  The evening was co-presented by Zócalo, UCLA, and UCLA's Ralph J. Bunche Center for African American Studies. To learn more about the event, Click Here.
The Bunche Center recently released its second annual Hollywood Diversity Report examining diversity and the bottom line in the entertainment industry.
To DOWNLOAD the "2015 Hollywood Diversity Report:  Flipping the Script,"

CLICK HERE

.
For background information about the Bunche Center's Race and Hollywood Project, Click Here.  For previous posts about the Center's Hollywood Advancement Project, Click Here.
To learn more about supporting this important research project and its annual diversity report, please contact Chia Yen, Executive Director of Development, UCLA Institute of American Cultures at cyen@support.ucla.edu or  310.206.6872.  To learn more about how to support the Bunche Center, you may also visit https://giving.ucla.edu/bunche.