SHI Alum Kelvin White Appointed OU Associate Dean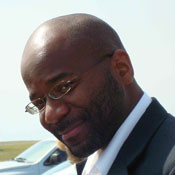 May 28, 2015 – Dr. Kelvin White, an Associate Professor of Information Studies in the School of Library and Information Studies at University of Oklahoma, was recently appointed Associate Dean for Faculty Development and Community. White, whose research examines the interconnections between the social, cultural, and historical contexts in which record-keeping activities exist and the implications they have for underrepresented communities, started his academic career by participating in the Bunche Center's Summer Humanities Institute (SHI).  White went on to complete his PhD at UCLA in 2008, and joined OU as an Assistant Professor.  Congratulations to Dr. White on his appointment.
SHI was designed to prepare high-achieving students from historically under-represented groups pursue a doctoral degree in the humanities and social sciences, with a focus on the African American experience.  Students from previous cohorts continue to make excellent progress in graduate programs at Yale, Brown, Cornell, Auburn, Harvard, Penn State, Duke, and UCLA.  Like Dr. White, they have also gone on to pursue careers in academia and in other professional, service and research fields.  However, due to expiring funds, SHI is on hiatus until further notice.
To learn more about supporting SHI and other Bunche Center research and programs, please contact Chia Yen, Executive Director of Development, UCLA Institute of American Cultures at cyen@support.ucla.edu or 310.206.6872.  To learn more about how to support the Bunche Center, you may also visit https://giving.ucla.edu/bunche.