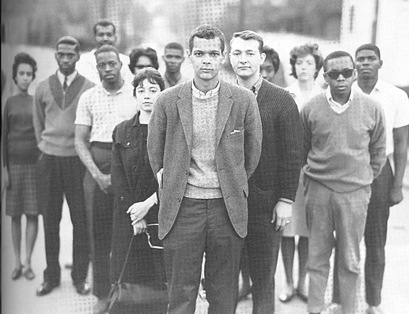 August 18, 2015 – I join the Bunche Center in my tribute to one of the finest civil rights leaders of the contemporary era. Julian Bond was a giant figure who championed human rights throughout his long and distinguished life. I had the pleasure of knowing him personally.
As a young civil rights movement activist, I had the good fortune of working with Julian in the office of the Student Non-Violent Coordinating Committee in its Atlanta headquarters. He was a striking presence in that office and he exemplified the ideal of encouraging all people, regardless of race, to participate vigorously in the movement to challenge the horrific oppression of racism. He continued on for the remainder of his life in challenging all social and political evils, from the war in Vietnam, to the unjust incarceration of millions of people of color, to the discrimination against gays and lesbians. In 1999, when he was the Bunche Center Thurgood Marshall honoree, I had the honor of introducing Julian in his campus presentation.
He was also a teacher and scholar of distinction. Over the years, I have been privileged to introduce my UCLA students to his co-edited collection of writings in "Gonna Sit at the Welcome Table," one if the finest sets of primary documents about the struggle for racial justice in the United States. I have also regularly used his perceptive introduction to the book, Strangers and Neighbors: Relations Between Blacks and Jews in the United States. His powerful comments on how both groups, with different histories and cultures, and despite some tensions between them, have a long and common historical bond of struggle. My students from both communities have benefited enormously from Julian's wisdom.
I celebrate a life that was extremely well lived.
Paul Von Blum
Senior Lecturer in African American Studies and Communication Studies