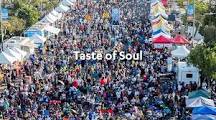 Round up the family, grab a hat to shade the sun and join the UCLA Black Alumni Association for good eats and entertainment at the 10th Annual Taste of Soul Family Festival where the motto is "Family, Food, Fun and Respect." This Welcome to the City is destined to feel like an extended family reunion as you taste your way down the boulevard in the company of fellow Bruins and hundreds of thousands of inter-generational, multi-ethnic, peaceful people from all around Los Angeles. Celebrate the spirit of acceptance and connection that makes this one of the greatest cities in the nation. Groove to the music, see the wares of local artists and discover the restaurants, businesses and organizations that support an inclusive community vision.
Saturday, Oct. 17 10 a.m. – 7 p.m. Admission is free, food is on your own.
On Crenshaw Blvd. between Stocker St. and Rodeo Dr. Los Angeles, CA
Volunteer Contact: Angela James, '87, M.A. '89, Ph.D. '95
Meet at the UCLA Booth at 2 p.m. for the UCLA alumni, friends and family group photo. Click Here to volunteer for a shift at the UCLA Booth.