Commemorating Berky Nelson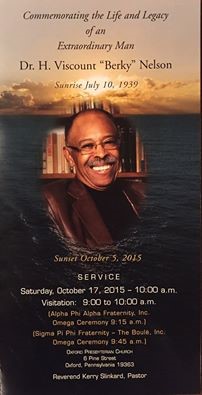 November 9, 2015 – The Bunche Center would like to again acknowledge the passing of our dear friend and colleague, Berky Nelson. Berky had a long and distinguished career at UCLA, where he directed the Center for Student Programming, was a Bunche Center affiliated faculty member, and regularly participated as an instructor and mentor in the Bunche Center's Summer Humanities Institute.
A celebration of his life was recently held in Oxford, Pennsylvania. The service was attended by family, friends, members of Alpha Phi Alpha Fraternity, and colleagues from UCLA. During the service, friends offered reflections about Berky, including this from Dean Florez: "Berky was the first picture of UCLA to the few students of color on campus. He symbolized a friendly and nurturing UCLA when UCLA didn't necessarily reflect the diversity of Los Angeles. He was the person that told us, through his actions and his words, that UCLA could also be our home."
For more on Berky Nelson, Click Here.