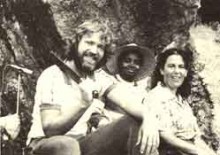 (Photo Credit: Jeff Richmond)
The World Music Center at UCLA, Department of Ethnomusicology, Herb Alpert School of Music presents a special screening of the film, Remembering Kojo: A Celebration of the Maroon People of Accompong, Jamaica, and a lecture by Jacqueline Cogdell DjeDje and Carol Merrill-Mirsky.
The film Remembering Kojo documents the January Sixth celebration of the Maroons of Accompong, Jamaica, and commemorates both the birth and victory of the Maroon leader, Kojo, over the British, which resulted in the signing of the peace treaty of 1739. Thirty years after the initial fieldwork, (conducted with videographer Jeff Richmond), Merrill-Mirsky (the film's editor) and DjeDje will be at the screening to discuss the rewards and challenges in conducting the research and creating the final product. Jacqueline Cogdell DjeDje is Professor Emeritus, former Chair of the UCLA Department of Ethnomusicology, former Director of the UCLA Ethnomusicology Archive, and a Bunche Center affiliated faculty member.
The event will be held Thursday, May 26, 2016, at 3:00 p.m. in Schoenberg 1344. A reception will follow.