NOW AVAILABLE!
2016 HOLLYWOOD DIVERSITY REPORT:
BUSINE$$ AS USUAL?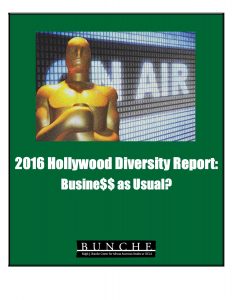 The Bunche Center released its third annual Hollywood Diversity Report examining diversity and the bottom line in the entertainment industry.
To DOWNLOAD the "2016 Hollywood Diversity Report:  Busine$$ as Usual," CLICK HERE.
To read the UCLA Newsroom story, Click Here.
For background information about the Bunche Center's Race and Hollywood Project, Click Here.  For previous posts about the Center's Hollywood Advancement Project, Click Here.
To learn more about supporting this important research project and its annual diversity report, please contact Chia Yen, Executive Director of Development, UCLA Institute of American Cultures at cyen@support.ucla.edu or  310.206.6872.  To learn more about how to support the Bunche Center, you may also visit https://giving.ucla.edu/bunche.