The UCLA Digital Archiving Collective invites faculty, students, staff, and members of the general public to join us for Session Two of our 2017-18 UCLA Visiting Speaker Series, which will be held on Friday, December 8, 2017 from 1-4 PM in the Main Conference Room of the Charles E. Young Research Library.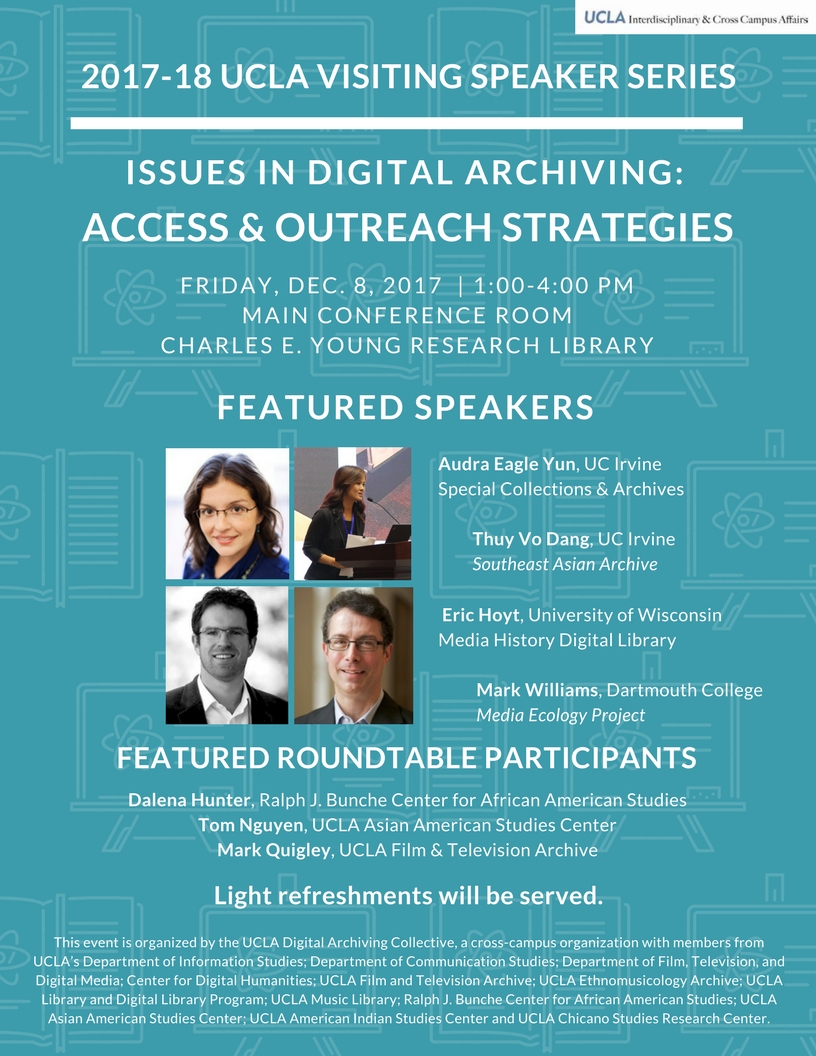 To download the flyer, click here.
Featured speakers are Audra Eagle Yun (UC Irvine), Thuy Vo Dang (UC Irvine), Eric Hoyt (University of Wisconsin), and Mark Williams (Dartmouth College). Speaker presentations will be followed by a roundtable session with members of the Digital Archiving Collective and a closing Q&A session. Light refreshments will be included.
The theme, "Access and Outreach," will center around strategies for:
Creating effective search tools
Digital distribution of and online access to collections
Improving collection usability through devices such as audio/video segmentation and annotation tools, facial or speech recognition tools, data visualization tools, etc.
Expanding discoverability and research use of collections
Promoting pedagogical use of collection materials at universities and other educational institutions
Expanding public outreach efforts.
Presenter Information
Audra Eagle Yun – University of California, Irvine
Audra Eagle Yun is Head of Special Collections & Archives at the University of California, Irvine. Her research areas include archival accessioning, community-centered archives practice, and access to born-digital archives.
Thuy Vo Dang – University of California, Irvine
Dr. Thuy Vo Dang is the Curator for the Southeast Asian Archive at UC Irvine. Her most recent publication is the local history book, Vietnamese in Orange County and is currently working on A People's Guide to Orange County (forthcoming, UC Press), a book project that foregrounds hidden stories of the region through a social justice lens.
Eric Hoyt – University of Wisconsin
Eric Hoyt is an Associate Professor of Communication Arts at the University of Wisconsin-Madison. He is the author of Hollywood Vault: Film Libraries before Home Video and co-director of the Media History Digital Library (MHDL, http://mediahistoryproject.org), which has digitized over 2 million pages of books and periodicals related to film and broadcasting history for broad public access. He also served as the lead developer of the MHDL's search platform, Lantern (http://lantern.mediahist.org), and analytics app, Arclight (http://projectarclight.org).
Mark Williams – Dartmouth College
Mark Williams is Associate Professor of Film and Media Studies at Dartmouth College.  He is the director of the Media Ecology Project (MEP), a digital resource at Dartmouth that enables researchers across disciplines to 1) digitally access historical moving image collections; 2) build a dynamic context of research that enhances search and discovery within library and archive collections–a key value add; 3) develop new research uses over time by a wide range of users, and 4) contribute back to the library and archival community through the fluid contribution of metadata and other knowledge. Through the MEP, he is working to realize a virtuous cycle by which new scholarship helps to ensure the preservation of historical media as public memory.
Featured Roundtable Participants
Dalena Hunter, Ralph J. Bunche Center for African American Studies
Tom Nguyen, UCLA Asian American Studies Center
Mark Quigley, UCLA Film & Television Archive
This event is organized by the UCLA Digital Archiving Collective, a cross-campus organization with members from UCLA's Department of Information Studies; Department of Communication Studies; Department of Film, Television, and Digital Media; Center for Digital Humanities; UCLA Film and Television Archive; UCLA Ethnomusicology Archive; UCLA Library and Digital Library Program; UCLA Music Library; Ralph J. Bunche Center for African American Studies; UCLA Asian American Studies Center; UCLA American Indian Studies Center; and UCLA Chicano Studies Research Center. Funding is provided by UCLA's Interdisciplinary and Cross-Campus Affairs Office.
For questions, please contact project assistant Jeannie Chen (jingpiano@ucla.edu).