THE PRICE FOR FREEDOM: BAIL IN THE CITY OF L.A. A MILLION DOLLAR HOODS REPORT
THE PRICE FOR FREEDOM: BAIL IN THE CITY OF L.A.
A MILLION DOLLAR HOODS REPORT
By: Isaac Bryan, Terry Allen, Kelly Lytle Hernandez, and Consultant, Margaret Dooley-Sammuli, ACLU-CA
The Million Dollar Hoods research team found that between 2012 and 2016, the Los Angeles Police Department levied $19,386,418,544 in money bail on persons arrested by the LAPD. The cost does not reflect changes later made by judges to bail assessments, arrests made by any other police departments in the Los Angeles area, nor what was actually paid.
Of the $19.3 billion in money bail set, $13,508,414,069 was neither paid nor waived through an administrative procedure, and 70% of the amount levied was not paid during LAPD booking proceedings, which left 223,366 people in LAPD custody prior to arraignment between 2012 and 2016.
According to the report, "… the money bail system is a multi-billion dollar toll that demands tens of millions of dollars annually in cash and assets from some of L.A.'s most economically vulnerable persons, families, and communities. For those who pay bail bond agents, that money is never returned and additional fees apply. But most people do not pay money bail. Among them, many individuals as well as their families and communities are simply too poor to pay the price for freedom."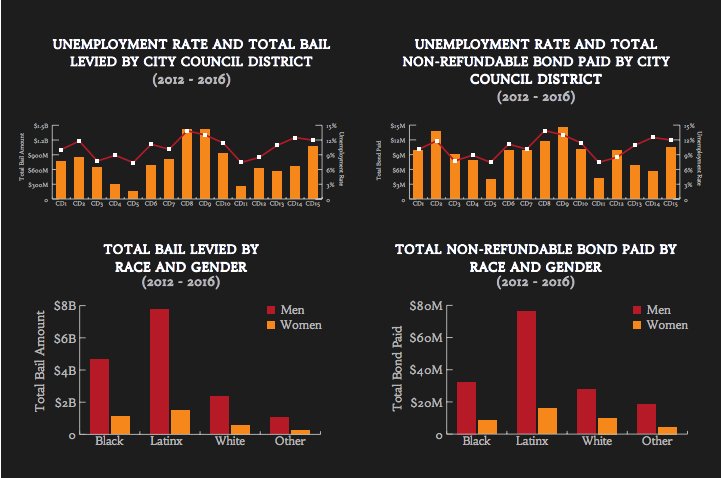 To download the full report, click here.