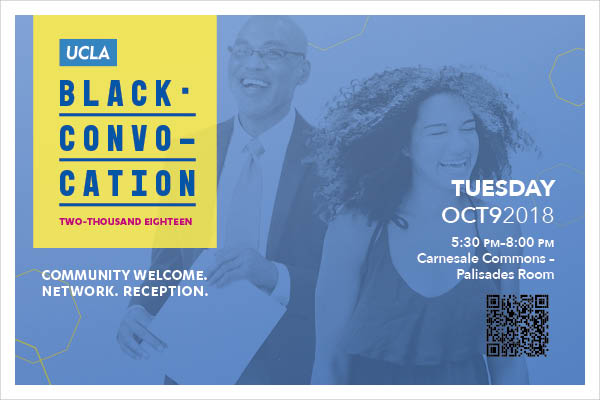 Save the date for the 2018 Black Convocation on Tuesday, October 9, 2018, 5:30 pm – 8 pm at Carnesale Commons – Palisades Room at UCLA. The Black Convocation is an annual event that welcomes new and returning students to the UCLA campus and makes them aware of the different organizations, departments, and resources available to serve them. It is an evening full of Bruin pride, providing encouragement, anecdotes about the past, and a glimpse of the future from UCLA faculty, staff, and alumni dedicated to supporting all students. The event is free and open to the public.
RSVP at https://uclablackconvocation2018.eventbrite.com.
Maps & directions. Parking can be purchased at Parking Lot DD.
To download a printable version of the flyer (8.5×11), click here!
The 2018 Black Convocation at UCLA was organized by the Ralph J. Bunche Center for African American Studies, UCLA Department of African American Studies, UCLA Black Alumni Association (UBAA), Office of Residential Life (ORL), Afrikan Student Union (ASU), UCLA Career Center, UCLA Black Graduate Student Association (BGSA), Academic Advancement Program (AAP), UCLA Equity, Diversity and Inclusion (EDI), Connecting Communities to UCLA (CCU), UCLA Community Programs Office (CPO) & UCLA Student Affairs – Enrollment Management.