UC Multi-campus Research Group on New Approaches to Black Atlantic Religions

University of California Office of the President
Multi-campus Research Programs & Initiative Funding (MRPI)
present a conference on
"New Directions in the Study of Black Atlantic Religions"
Saturday, October 27, 2018
9 am – 5 pm
10383 Bunche Hall, UCLA
Free and open to the public
RSVP requested to sbreeding@international.ucla.edu
This multidisciplinary group composed of faculty from across UC campuses will critically assess the current state of scholarship on Black Atlantic belief systems and theorize new methodologies and analytic orientations for comparative and regional studies. Our objective is to expand UC's historical role as a hub for the study of Black Atlantic religions by fostering dialogue and collaboration amongst a new generation of scholars. We will explore where new research is needed, ways to develop new methods, what new theoretical paradigms are available, and carefully consider how we as scholars can contribute to the anti-racist struggles of the peoples of the Black Atlantic world.
KEYNOTE ADDRESS
"Dancing for the Dead and the Living: Embodiment and Invocation in Caribbean Mortuary Praxis"
Yanique Hume, professor, professional dancer, choreographer, and writer based at the University of the West Indies, Cave Hill Barbados
Participants include Jeffrey Kahn, UC Davis, Rachel O'Toole, UC Irvine, Roberto Strongman, Elizabeth Pérez and Claudine Michel from UC Santa Barbara, Jeroen Dewulf, UC Berkeley and Patrick A. Polk, Lauren Derby, Katherine Smith, Elyan Hill, and Andrew Apter, UCLA. Additionally, Brendan Jamal Thornton from the University of North Carolina, Chapel Hill whose book on Pentecostalism and masculinity in the Dominican Republic won the Caribbean Studies award for best book in the humanities.
Conference schedule, campus map, directions, and transportation information is available on our website: http://www.international.ucla.edu/asc/event/13430
The conference is free and open to the public; RSVP requested by emailing Sheila Breeding, African Studies Center, at sbreeding@international.ucla.edu.
This conference is sponsored by the University of California Office of the President Multi-campus Research Programs and Initiative Funding and the UC Humanities Research Institute (UCHRI).  Co-sponsors of this event include Patricia Turner, Dean and Vice Provost, Division of Undergraduate Education, UCLA College of Letters and Science; UCLA Department of World Arts and Cultures/Dance; UCLA Ralph J. Bunche Center for African American Studies; UCLA Center for the Study of Religion, Robin D.G. Kelley, Gary B. Nash Endowed Chair in U.S. History; Fowler Museum at UCLA; UCLA Atlantic History Cluster; UCLA Center for the Study of Women, UCLA African Studies Center.
——
Pay-by-space and all-day ($12) parking available in lot 3
Campus map, directions, transportation options to UCLA at www.ucla.edu/map
We hope to see you at this event!
For questions/more information, contact:
UCLA African Studies Center | 10244 Bunche Hall | Los Angeles, CA 90095-1310 | Telephone: 310-825-3686
Website: http://www.international.ucla.edu/africa | email: sbreeding@international.ucla.edu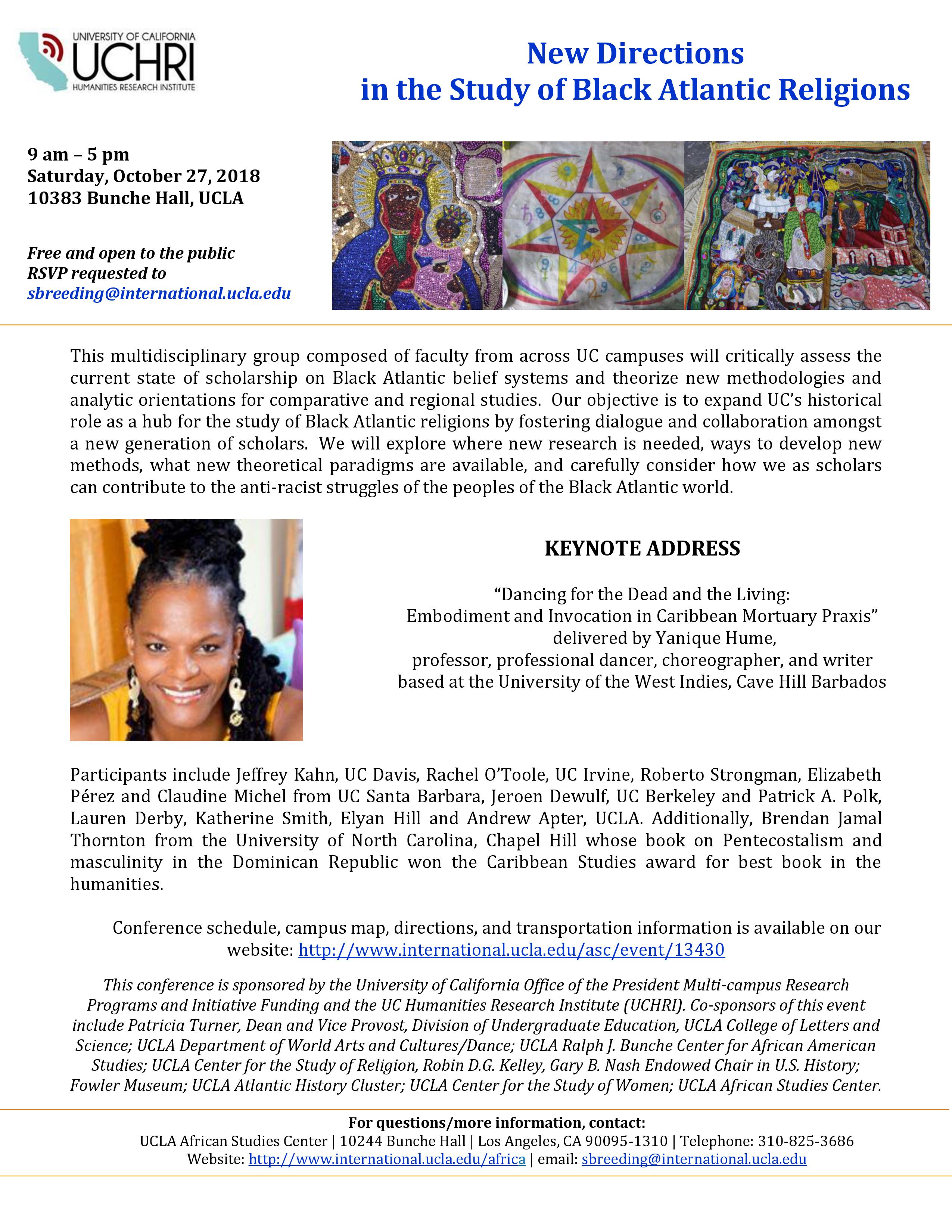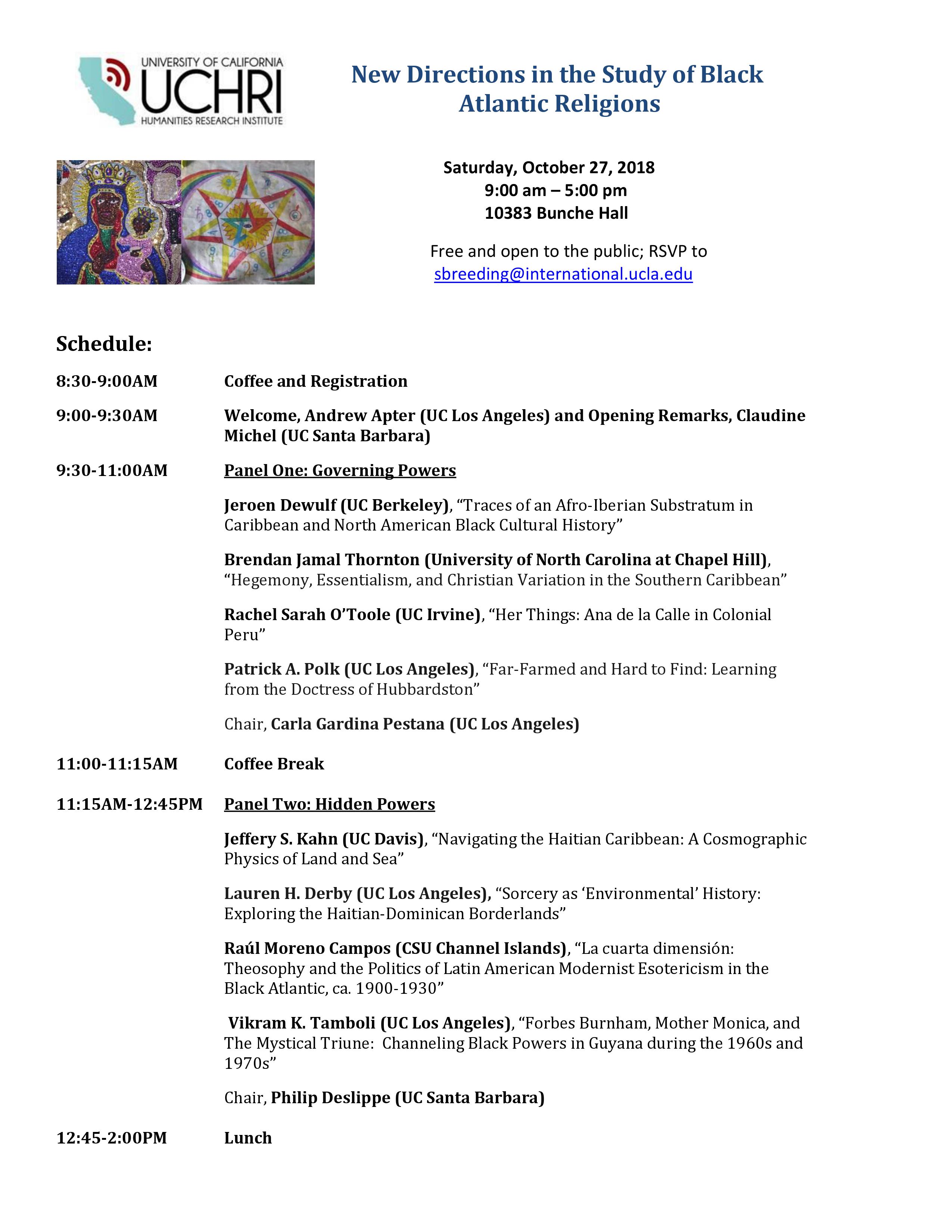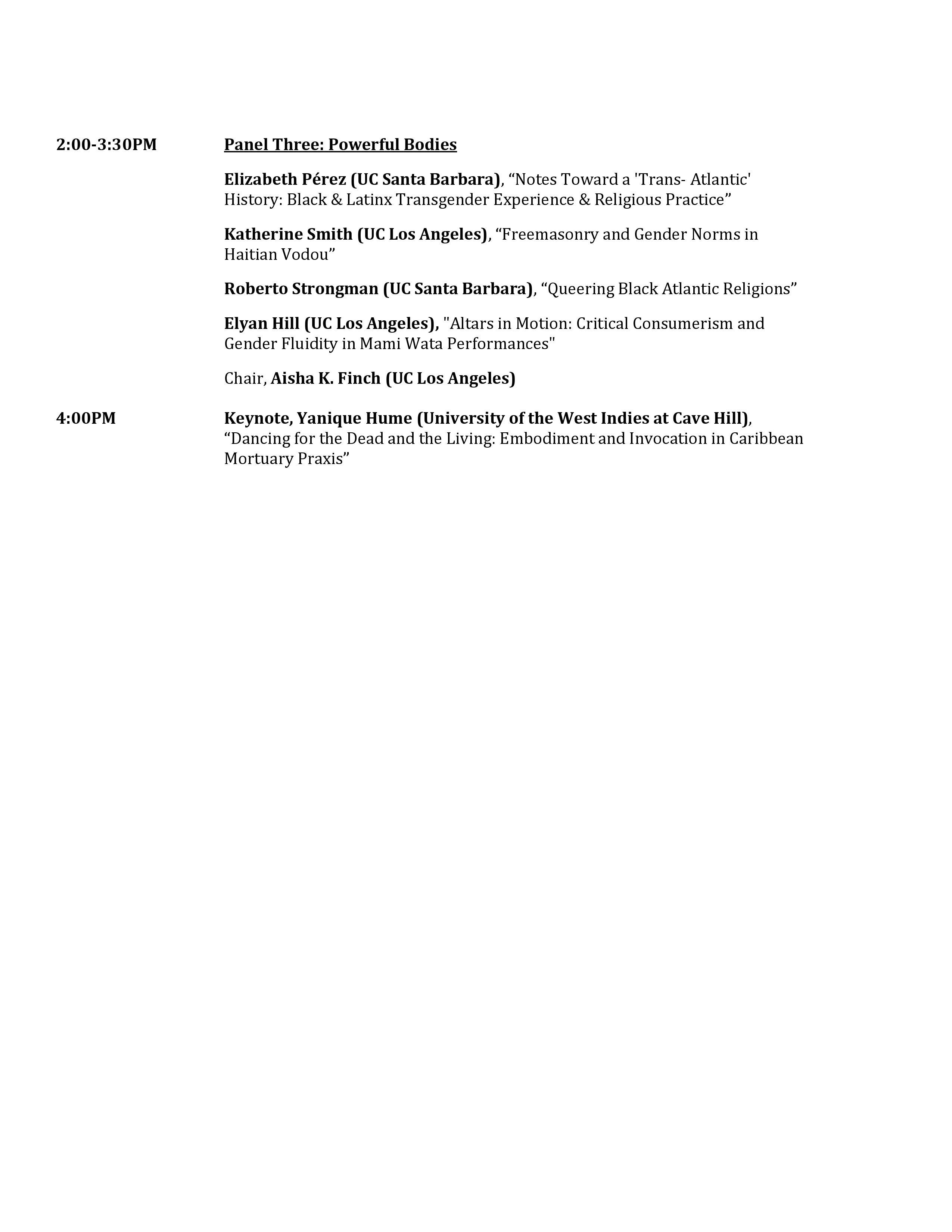 To download the flyer, click here!
To download the schedule, click here!