TODAY AT NOON!
Bunche Center Authors' Series
Presents
GAYE THERESA JOHNSON
Associate Professor
Department of Black Studies
University of California, Santa Barbara
 who will discuss and sign her book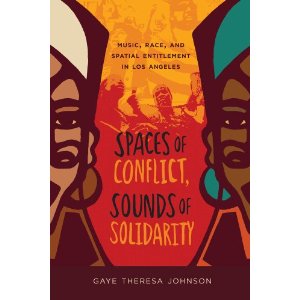 Spaces of Conflict, Sounds of Solidarity:
Music, Race, and Spatial Entitlement in Los Angeles
 THURSDAY, NOVEMBER 7, 2013
Library & Media Center – Haines Hall 135
12:00 PM – 1:00 PM
Professor Johnson is a faculty member in the Department of Black Studies with affiliations in the departments of History and Chicana/o Studies at the University of California at Santa Barbara. Her areas of expertise are twentieth century U.S. history; race and racism; and cultural history with an emphasis on music.  Dr. Johnson's new book, from the University of California Press, is a cultural history of civil rights and spatial struggles among Black and Brown people in LA.  You can follow her on Twitter @LaDoctoraGTJ or visit her website, www.gayetheresajohnson.com/.  The event is co-hosted by Robin D. G. Kelley, the Gary B. Nash Professor of American History at UCLA and a Bunche affiliated faculty member.
The Bunche Authors' Series is free and open to the public.  All-day parking ($12) and short-term parking (payable at pay stations) are available in Lots 2, 3 or 4 (enter the campus at Hilgard and Westholme avenues).  UCLA is smoke-free and tobacco-free. The use of cigarettes, cigars, chewing tobacco and all other tobacco products, as well as electronic cigarettes, will be prohibited on UCLA's campus and at sites owned or fully leased by the university.  For more information, please visit: https://ccle.ucla.edu/course/view/UCLA_tobacco_free_task_force.