ROXANNE CHISHOLM AND JEANNETTE CHISHOLM MOORE ENDOWED SCHOLARSHIP FUND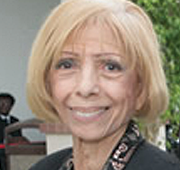 On April 2, 2007, Jeannette Chisholm Moore provided a gift establishing the Roxanne Chisholm and Jeannette Chisholm Moore Endowed Scholarship Fund. The fund was established in honor of her deceased daughter, Roxanne Chisholm. The gift was provided to support graduate and undergraduate students participating in African American Studies who demonstrate financial need and merit. A $1500 scholarship will be awarded.
The deadline for submitting completed applications to the Ralph J. Bunche Center is Monday, April 30, 2018 at 12:00 Noon. The selected student will receive a $1500 credit towards UCLA educational expenses for the 2018-19 academic year.
Applications are available in Haines Hall Room 160 OR online FILLABLE 2018 Chisholm-Moore- BUNCHE CENTER Scholarship application.  For more info, please call 310-825-7403.
Read more about the endowment at the UCLA Foundation.
For more information and how to apply, please call the Bunche Center main office at 310-825-7403.