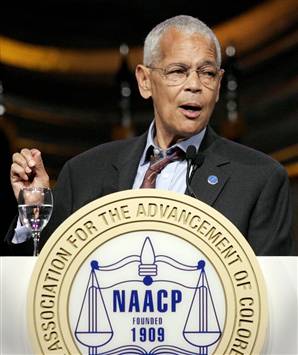 August 17, 2015 – Former N.A.A.C.P. Chairman, Julian Bond, died on August 15th in Fort Walton Beach, Florida. He was 75. Bond was a lifelong champion of equality and civil rights, serving on the board and as chair of the N.A.A.C.P. He was also a founder of the Student Nonviolent Coordinating Committee and a magnetic figure of the 1960s Civil Rights Movement.
For 20 years, Bond served in the Georgia General Assembly, and was the first president of the Southern Poverty Law Center. A Distinguished Adjunct Professor at American University in Washington, D.C., and a professor of history at the University of Virginia, Bond gave the Bunche Center's 1999 Thurgood Marshall
Lecture.
"I met Bond first, about 20 years ago, when I was at USC and he gave a major lecture there.  He was so incredibly elegant and dignified," remembers Darnell Hunt, UCLA Sociology Professor and Bunche Center Director. "We were honored to be able to have him at the Bunche Center as our 1999 Thurgood Marshall Honoree."
To read the New York Times article on Bond, Click Here. Click HERE for the complete list of Bunche Center Thurgood Marshall honorees.