The UCLA Digital Archiving Collective invites faculty, students, staff, and members of the general public to join us for Session Four of the 2017-18 UCLA Visiting Speaker Series, which will be held on Friday, April 6, 2018 from 1-4 PM in the Jan Popper Theater (Schoenberg Music Building).
Featured speakers are Kim Christen (Washington State University), Kenneth D. Crews (Munich Intellectual Property Law Center), David Pierce (U.S. Library of Congress), and Rick Prelinger (Prelinger Archives / University of California, Santa Cruz). Speaker presentations will be followed by a roundtable session with members of the Digital Archiving Collective and a closing Q&A session. Light refreshments will be served.
The theme, "Legal and Ethical Issues," will center around strategies for:
Securing clearances for digital rights
Negotiating accession terms with individual and corporate donors
Legal and ethical considerations in determining forms and levels of digital accessibility
Legal protections for archives and users under current intellectual property law
Areas for copyright reform
Featured Roundtable Participants
Jan-Christopher Horak, UCLA Film & Television Archive
Maureen Russell, UCLA Ethnomusicology Archive
This event is organized by the UCLA Digital Archiving Collective, a cross-campus organization with members from UCLA's Department of Information Studies; Department of Communication Studies; Department of Film, Television, and Digital Media; Center for Digital Humanities; UCLA Film and Television Archive; UCLA Ethnomusicology Archive; UCLA Library and Digital Library Program; UCLA Music Library; Ralph J. Bunche Center for African American Studies; UCLA Asian American Studies Center; UCLA American Indian Studies Center; and UCLA Chicano Studies Research Center. Funding is provided by UCLA's Interdisciplinary and Cross-Campus Affairs Office and Digital Humanities Program.
For questions, please contact project assistant Jeannie Chen (jingpiano@ucla.edu).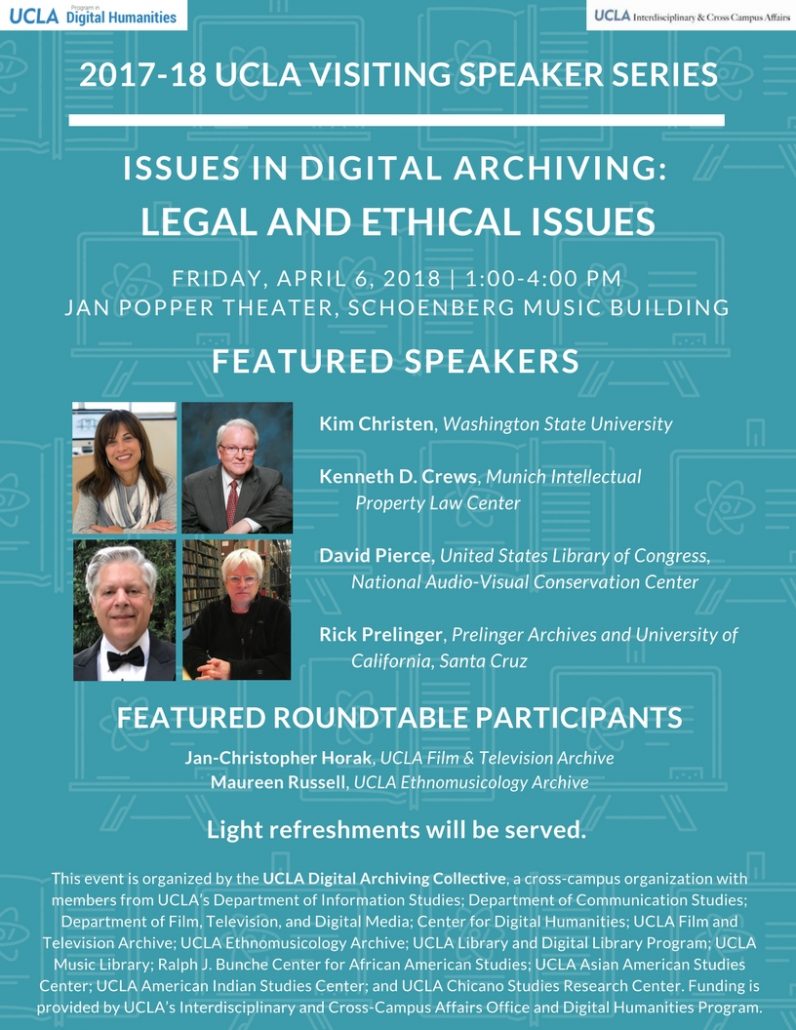 To download the flyer, click here.